5,56x45
7,5mm Nagant
&nbsp Ball
&nbsp -Box
&nbsp Blank
&nbsp -Box
38 Special
9x19
9x20
6,5x55
7,62x51
7,62x54R
8x58RD
7,92x57
8x63
Jarmann
11x17
45 ACP
11mm Pin fire
12,7 Remington
12,7x99
13x92R
13,2x99
Experimental ammunition
Commercial ammunition
Special purpose
Krevadpatron
7,5Nagant


IDnumber: 152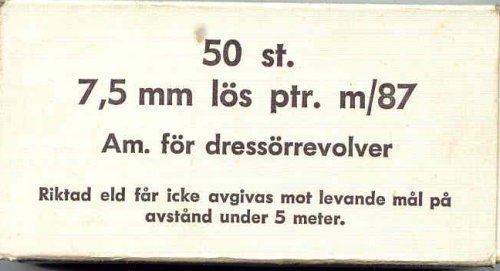 This box contains 50 pcs of star crimped blank ammo intended for the use in the m/87 revolver. The ammunition is for the use of dog training. As there is no blank fire device for the revolver, there is a regulation of use printed on the box saying "pointed fire may not be given against living targets on a distance closer than 5 meters".
Thank you Colt for this image.
IDnumber: 212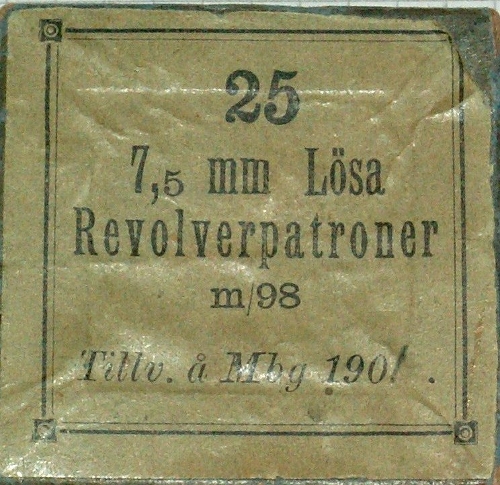 This is a unusual box of 7,5 mm Nagant blanks, manufactured at the Marieberg factory at 1901.
---

Copyright © 2000 Chris
The Swedish military ammunition site

Pcs published: 2