5,56x45
7,5mm Nagant
&nbsp Ball
&nbsp -Box
&nbsp Blank
&nbsp -Box
38 Special
9x19
9x20
6,5x55
7,62x51
7,62x54R
8x58RD
7,92x57
8x63
Jarmann
11x17
45 ACP
11mm Pin fire
12,17 Remington
12,7x81SR
12,7x99
13x92R
13,2x99
Experimental ammunition
Commercial ammunition
Special purpose
Krevadpatron
7,5Nagant


IDnumber: 148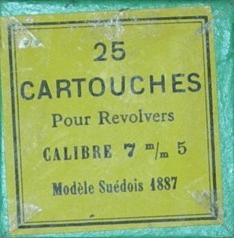 This box is of French or maybe of a Belgian production, anyone who knows? No year or factory anywhere on the box.

From AJ collection
IDnumber: 74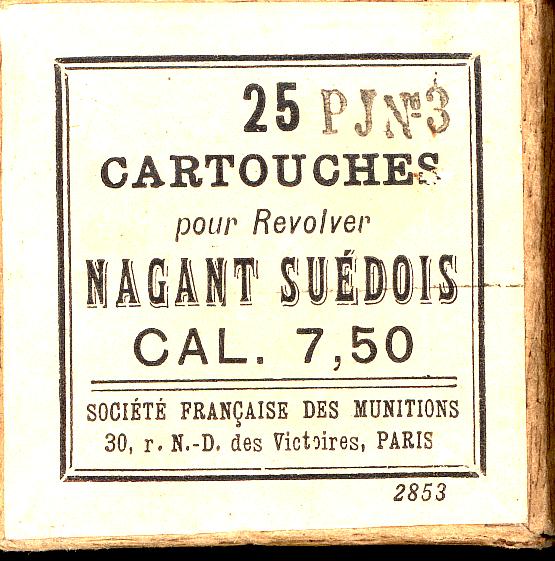 This box is produced by SMF, France. There is no indication of the age of production.

From Private Collector
IDnumber: 76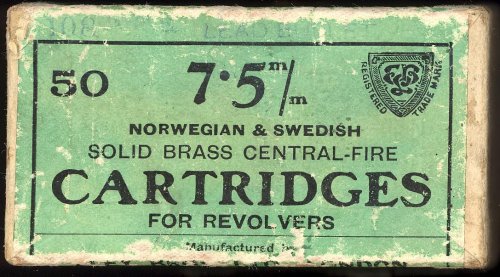 This is another type of the imported ELEY ammunition from a early production. This box should have a date of manufacturing at the bottom of the label, but that part is scraped off.
This box is produced for Norway and Sweden in a joint venture.
Thanks to private collector for the image.
IDnumber: 78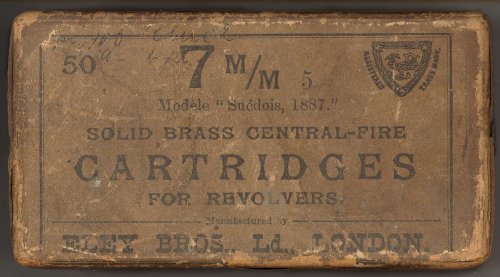 This is a box of imported ammunition from ELEY in London, UK. It is difficult to say a precise production year for this box, but I would guess for about 1890 something. Please correct me if you know.
Thanks to Private collector for this image.
IDnumber: 90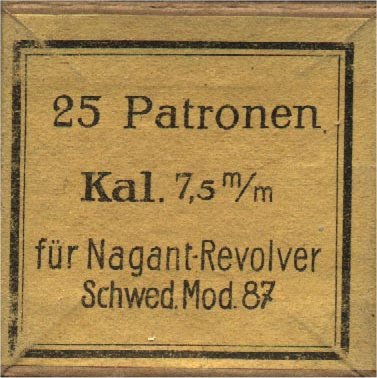 This box is imported from Germany. There is no factory specified on the box, one can only guess when and were it was produced.

From Rude of Åtvidaberg's collection.
IDnumber: 147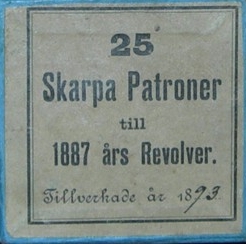 This is a very early box of 7,5mm Nagant ammunition, produced in 1893 from an unknown manufacturer.
IDnumber: 16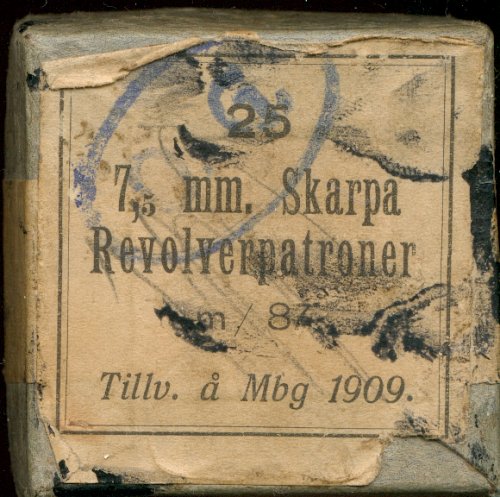 The box label reads:
25
7,5 mm. Live
Revolver cartridges
m/87
Manufactured in Marieberg ammunition factory in 1909.
IDnumber: 346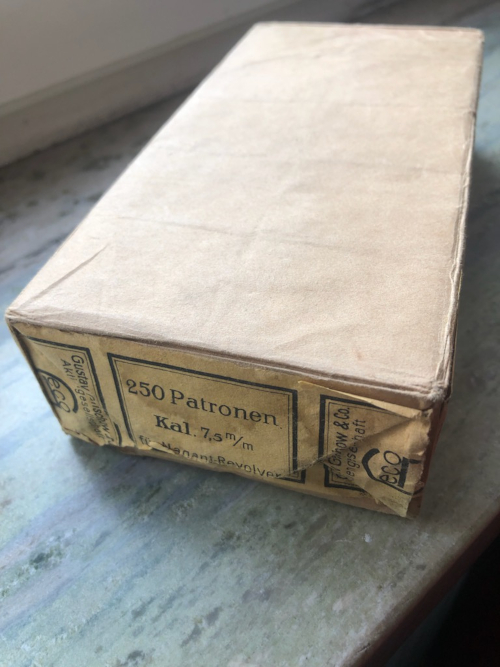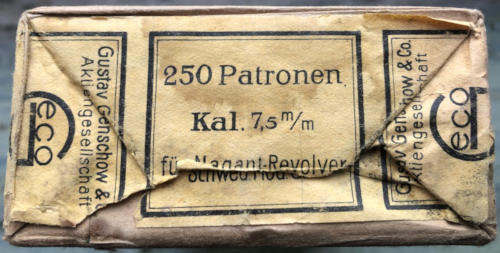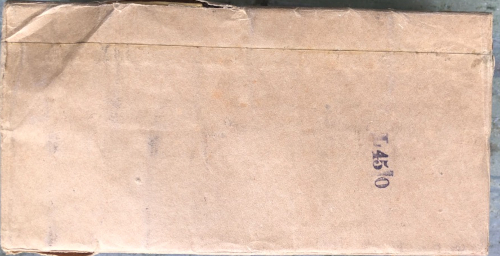 This paper wrap containing 250 rounds of ammunition, divided to 10 boxes of 25 rounds. The package is produced by Geco.

Courtesy Gustav T. collection
IDnumber: 89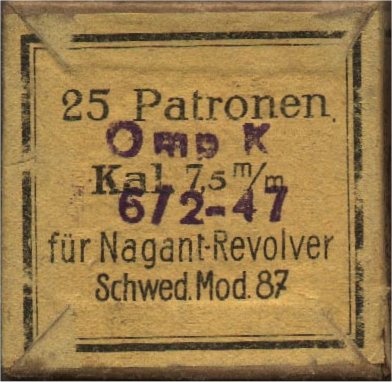 Ammunition has always been imported, like this box of 7,5 mm Nagant ammunition manufactured by GECO in Germany. There is no manufacturing date or year so I cannot surely say when it is produced.
The box has a blue stamp telling that this box have been re-packed or checked at the Karlsborg ammunition factory at 6 February 1947.

---

Copyright © 2000 Chris
The Swedish military ammunition site

Pcs published: 9