5,56x45
7,5mm Nagant
38 Special
9x19
9x20
6,5x55
&nbsp Ball
&nbsp -Box
&nbsp Tracer
&nbsp -Box
&nbsp Blank
&nbsp -Box
&nbsp Inert
&nbsp -Box
&nbsp AP
&nbsp -Box
&nbsp Grenade
&nbsp -Box
&nbsp Training
&nbsp -Box
&nbsp High Pressure
&nbsp Pack Test
&nbsp All
7,62x51
7,62x54R
8x58RD
7,92x57
8x63
Jarmann
11x17
45 ACP
11mm Pin fire
12,17 Remington
12,7x81SR
12,7x99
13x92R
13,2x99
Experimental ammunition
Commercial ammunition
Special purpose
Krevadpatron
6,5x55


IDnumber: 268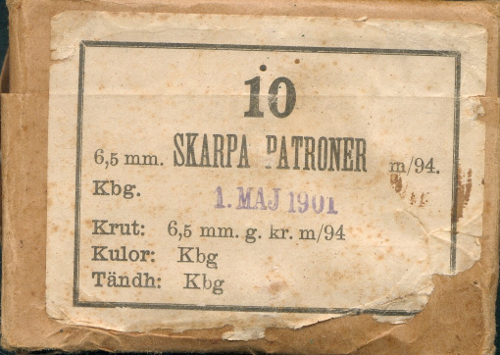 This only shows how little has changed in design over the years. This ammunition is from 1 of May 1901. It is made by Karlsborg ammunitionsfabrik. Mint condition.
IDnumber: 116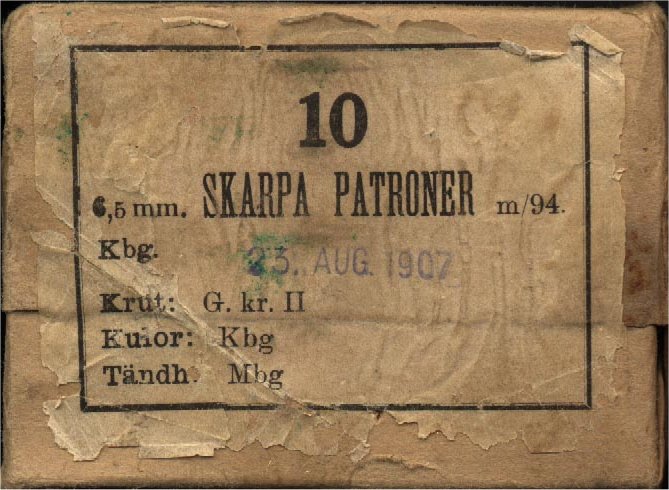 This is an early box of ball ammunition manufactured 23 of august 1907 at the Marieberg factory.
From Rude of Åtvidaberg collection.
IDnumber: 306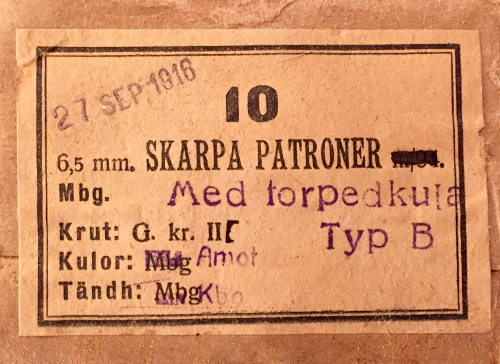 The 6,5x55 with "B" projectile is a ammunition produced on a level for experimental ammunition. That probably why the label has not been printed specificly for this ammunition, it is just a standard lable updated with rubber stamps. The box is supposed to contain 10 pcs of 6,5x55 m/94 cartridges loaded with the m/13 torpedo projectile.

27 of September 1916
10 (pcs)
6,5 mm. LIVE CARTRIDGES
Mbg (Marieberg factory)
With torpedo bullet model B
Powder: G. kr. III (Rifle powder III)
Projectiles: Amot ((Åmotfors)(Norma))
Primer: Kbg (Karlsborg factory)

Courtesy collector Amf 30
IDnumber: 60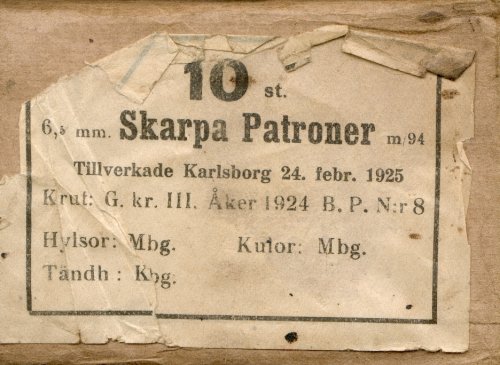 This is a box of standard 6,5x55 ammunition with the original m/94 projectile produced in Karlsborg factory in 1925.
Case, primer and projectile is produced in the Marieberg factory. The powder is from the Åkersberg factory.
IDnumber: 112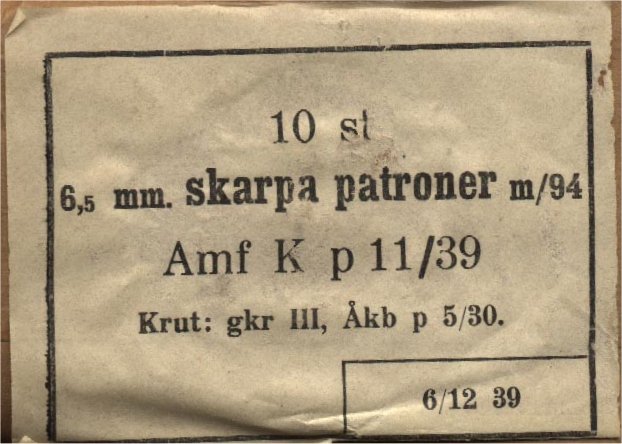 This is a paper wrapped 10 pack manufactured by Karlsborgs ammunition factory in 1939.
From Rude of Åtvidaberg collection.
IDnumber: 113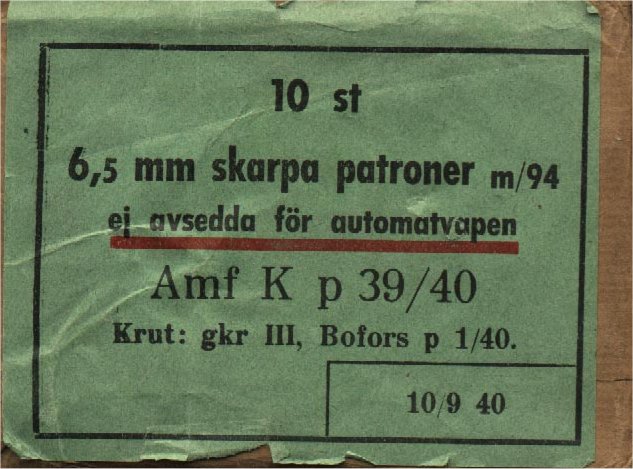 This green labeled box of 6,5x55 ammunition is of the odder kind. It is of lot 39 manufactured 1940 in the Karlsborg factory. It is labeled and underlined in red with "Not for use in automatic weapons". The cases in this box are of less good quality and might jam an automatic weapon.

From Rude of Åtvidaberg collection.

IDnumber: 111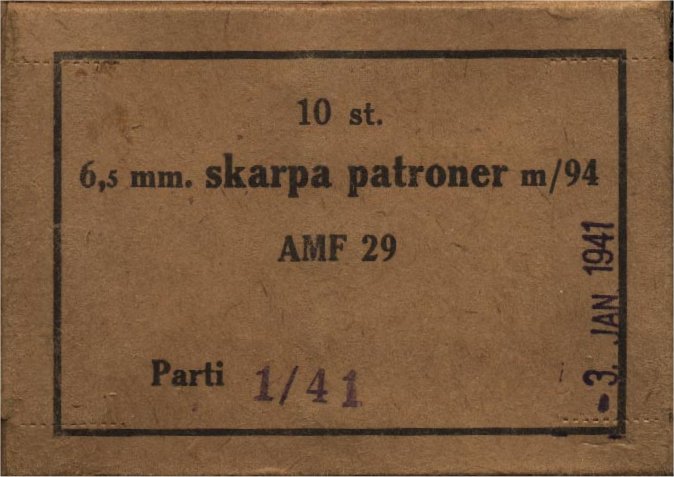 This is a WW2 box made in Jan 3 1941. It contains 10 rounds in a hard paper box. This is lot 1 of 1941 from the VPT factory in Finland.
From Rude of Åtvidaberg collection.
IDnumber: 234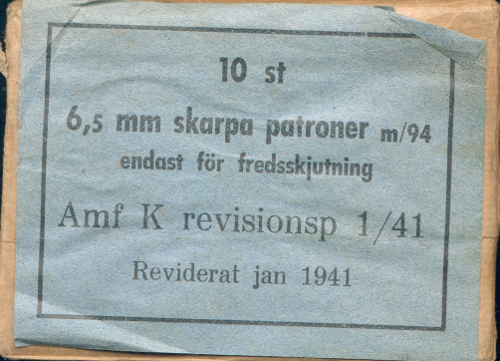 I am not really sure of how to interpret this box. It has been reviced in the same moment as it is produced? It is more likely that it is stock ammunition that has been reviced and labled as only for piece time shooting as there has been questions of the quality of this stock of ammunition. The repacking/Labelling is done at the Karlsborg factory in 1941.

From Rude of Åtvidaberg collection.
IDnumber: 109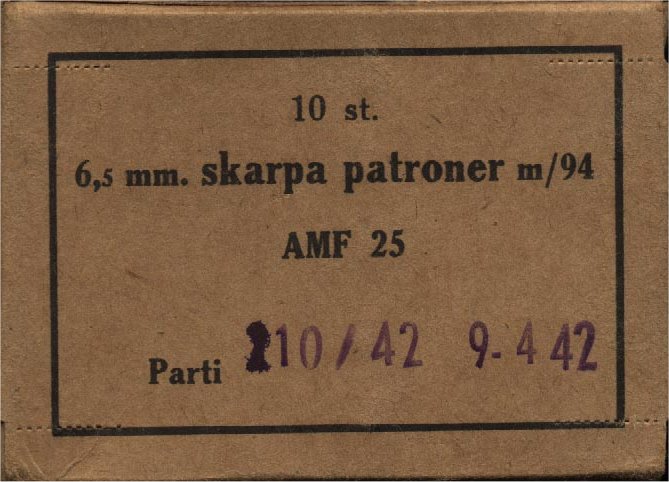 This is a WW2 box containing 10pcs of live ammunition manufactured in 1942. It is produced by Vulcans Tändsticksfabrik, Tidaholm.
From Rude of Åtvidaberg collection.
IDnumber: 114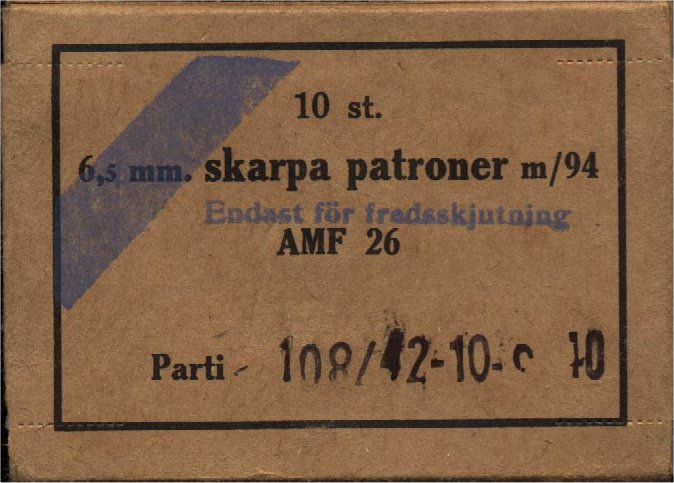 This is a blue marked box of 6,5x55 ammunition labeled "Only for peace time shooting". It is strictly for training purposes. The box contains blue tipped ammunition of a quality not good enough for the battlefield.
This box is manufaktured in 1942 by A.B. Svenska Metallverken. Västerås

From Rude of Åtvidaberg collection.

IDnumber: 249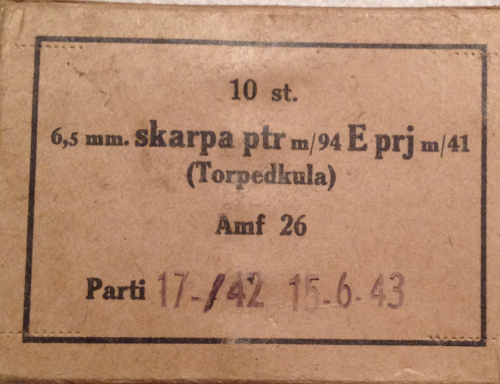 This is something as unusual as a box of 6,5x55 with full patch m/41 projectile and Steel case. I have seen steel cased 6,5 ammunition with training purposed projectile. It is produced in 1942 by the factory 26, A.B. Svenska Metallverken. Västerås
Courtesy Amf 30 collection.
IDnumber: 189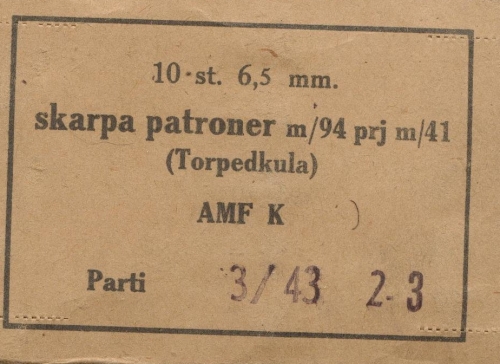 This box contains for the time newly developed pointed boat tailed projectile (Torpedkula). It is not labeled as "for sniping" as common for the period.

The box is produced by Karlsborgs ammunition factory in 1943.

IDnumber: 196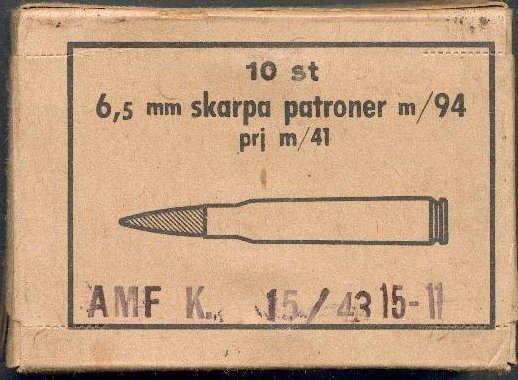 This box from Karlsborg 1943 production do have a image of a 8x63 cartridge printed while the content is 6,5x55 ammunition. Another unusual thing is that the "AMF" (ammunitions fabrik; ammunition factory) is stamped at the box. This is normally only found on the bottom stamps of the cartridge.
IDnumber: 239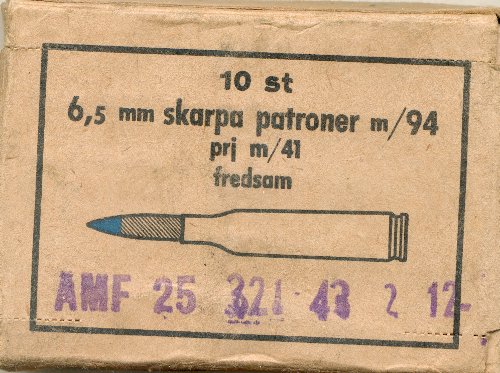 This is a box of 10PCS of 6,5x55 ammunition that is for piece time shooting only. This is thd only box of its type have seen with a picture of the ammunition on the label. It is produced by the Bofors factory within Vulcans tändsticks fabrik in Tidaholm in 1943.

From Rude of Åtvidaberg collection.
IDnumber: 245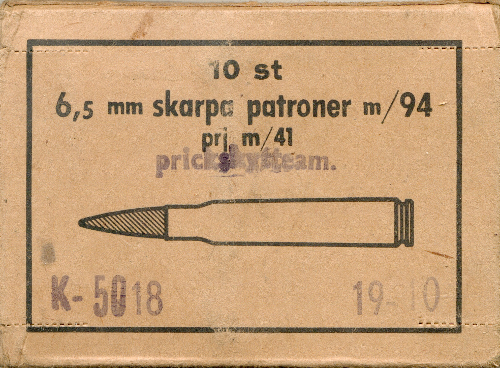 The sniper 6,5x65 were a topic in the 1941-44, the boxes were clearly stated if they were of sniper quality from the production. The definition seems to of not been so interesting after the war, my beliefs is that the quality in production were either generally high enough, or that sniper quality ammunition were still in stock.
This box is produced in 1950 in Karlsborg ammunitions fabrik, and is of sniper quality. There is a rubber stamp used to label the box "Prickskytteam", sniper ammunition. It would be interesting to know more of how many boxes were produced, as there were no boxes printed for this specific ammunition grade to start with.

From Rude of Åtvidaberg collection
IDnumber: 329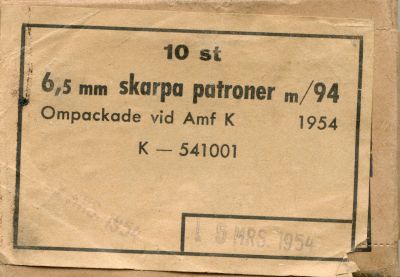 This label seems to be unusual, and it follows a bit of a diffeent layout than usual. The text says:
10 PCS
6,5 mm live rounds m/94
Repacked at Amf K 1954
K - 541001

15 March 1954


IDnumber: 52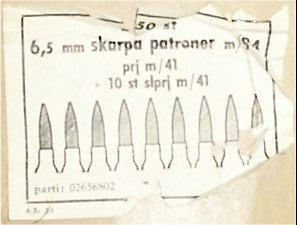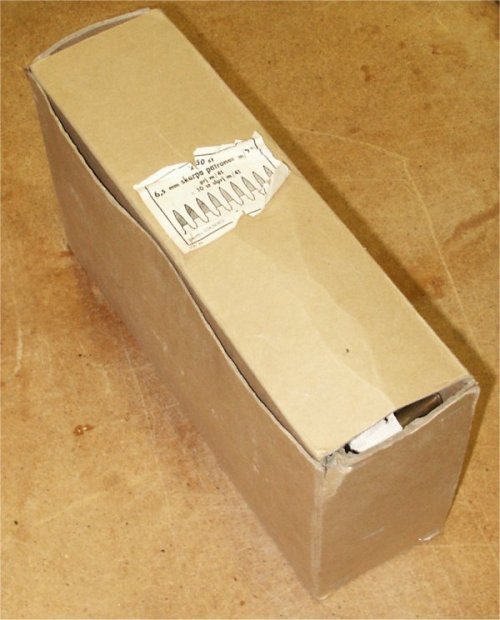 I have seen really only a few of the 6,5x55 in a 250 round carton pack. This is the inner liner, and 7 of these carton boxes were packed in a ammunition crate m/32.
This box is produced in 1956 by A.B. Svenska Metallverken. Västerås
IDnumber: 118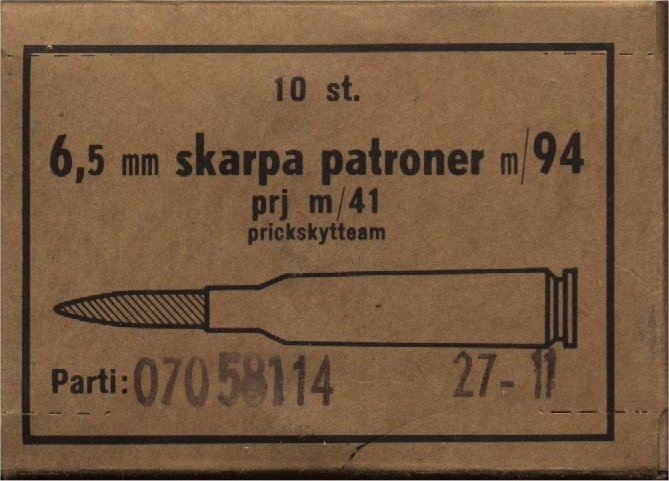 This is a box of high quality 6,5x55 ammunition specially marked "Target ammunition". It is for use as target ammunition with the "new" m/41 projectile. It is manufactured 1958 in the factory "Karlsborg Ammunitions fabrik".
This is the earlier box design containing 10 rounds of ammunition.

From Rude of Åtvidaberg collection.

IDnumber: 225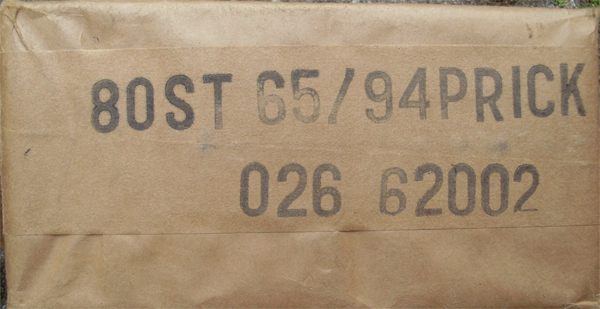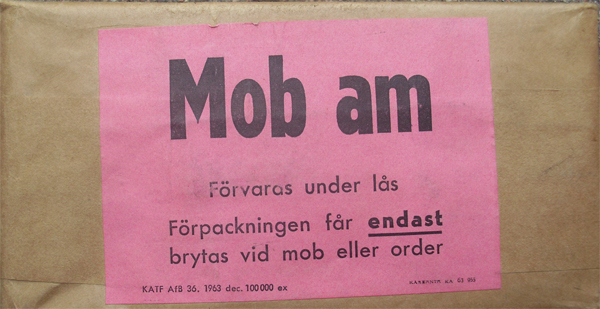 The home guard has been supplied with special mobilization ammunition in different packages. This is a pack of 80 PCE of 6,5x55 made for this purpose. The text on the red label clearly states:
Mob ammunition
To be kept under lock
The box may be broken only in Mob or under order.

The ammo is produced by Svenska Metallverken in 1962.

From Rude of Åtvidaberg collection.

IDnumber: 50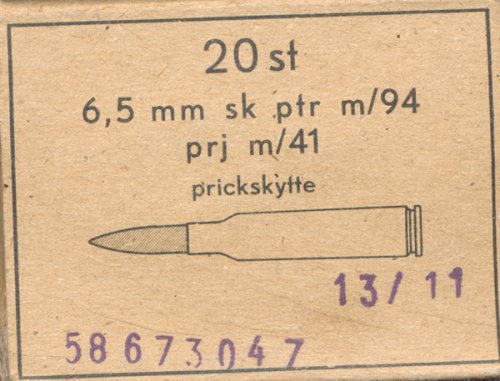 Even if ammunition were produced outside Sweden, the boxes were still produced mainly in country. Like this box of 6,5x55 ball ammunition that is produced by factory 586, Hirtenberger, Austria in 1973. If you are not acquainted with the number series for the factory you cannot say were it is manufactured
IDnumber: 165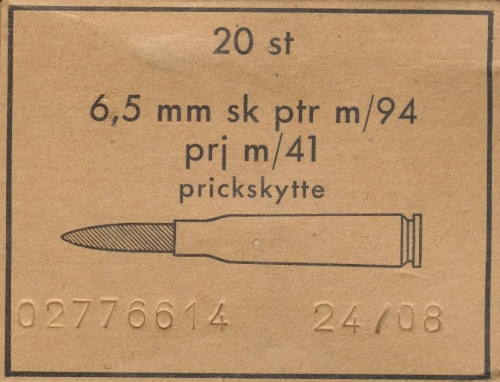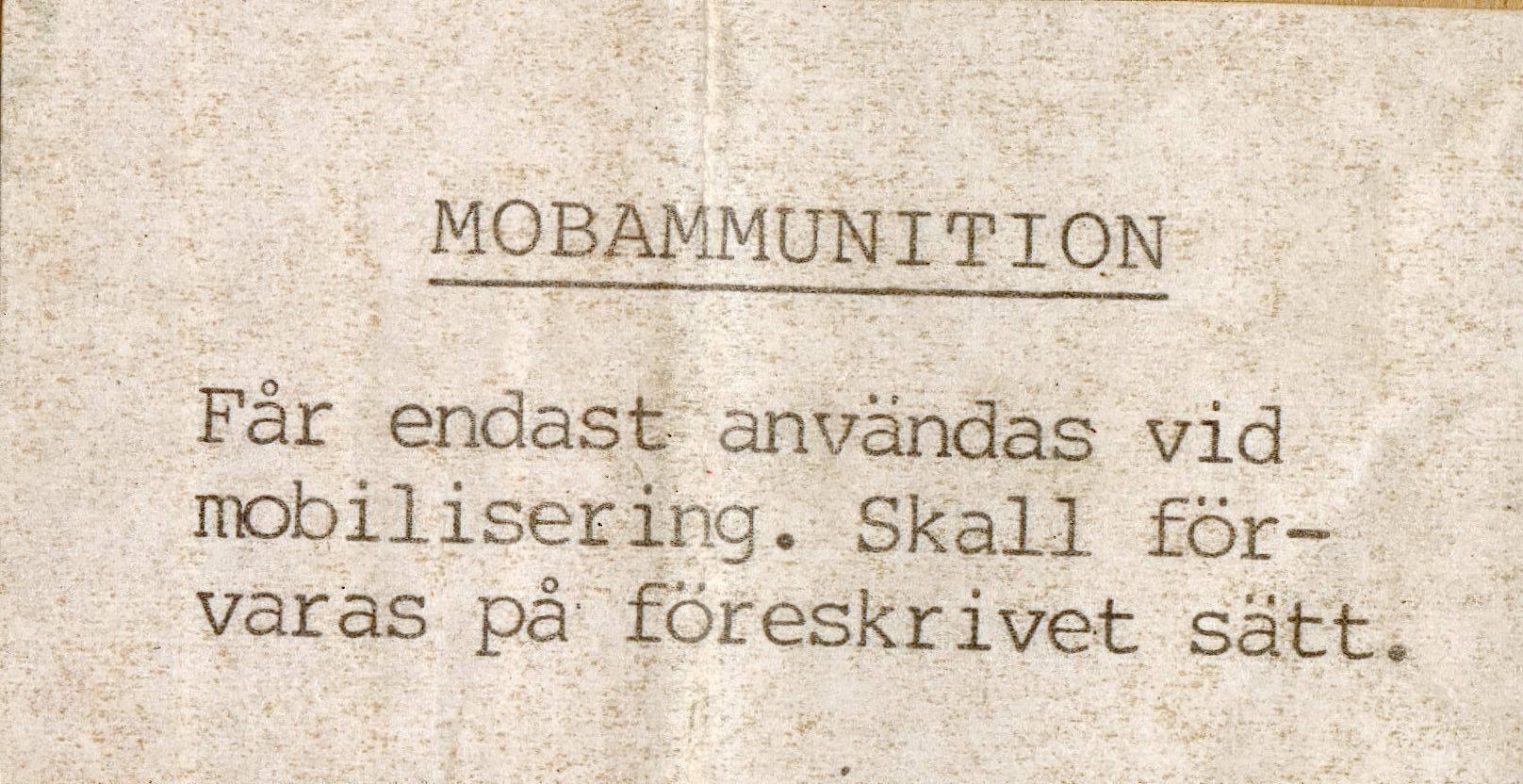 This box of 20 PCS of 6,5x55 cartridges has a label on the back side showing it to be mobilization ammunition.
"Mobilization ammunition
May only be used at mobilization.
To be stored at prescribed way"
This box is manufactured in 1976 by Norma.

---

Copyright © 2000 Chris
The Swedish military ammunition site

Pcs published: 21